Clio pump features
Clio is a real pump for uni-direction fluid pump and part of CellMembra perfusion concept. Build for super controlled and selectable operation by the advanced Clotho Drive Unit. Clotho measures accurately in real-time the free-flowing diaphragm position. Allowing Clotho programming the desired diaphragm position and function. The result is an Air-Operated-Diaphragm-positive-Displacement (AODPD) One-way-Single-Use-Pump (O-SUP) with un-parallel performance and capabilities.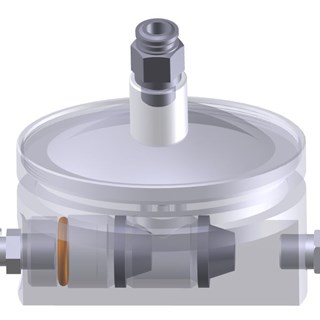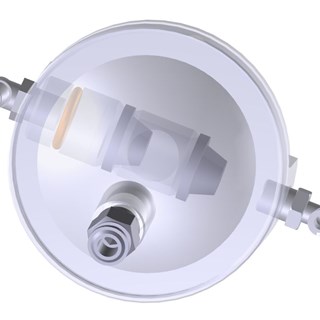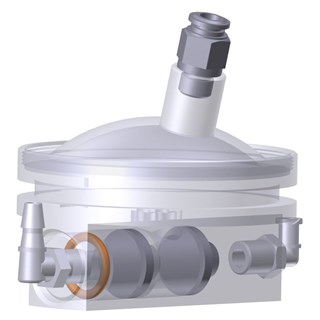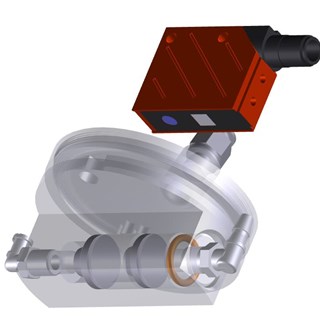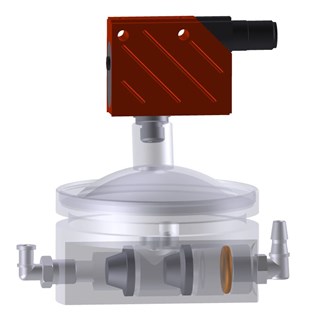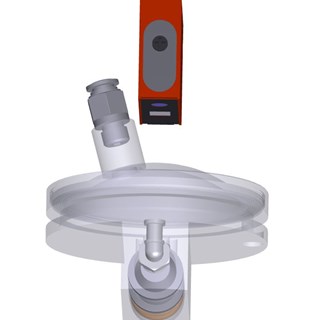 Clio technical / functionality:
The diaphragm Single-Use-Pump (O-SUP) integrates two passive one-way valves guiding the direction of broth flow. The valve body receives broth from the SUB and deliver feedstock to the Hollow-Fiber-Filter (HFF) module inlet after which the concentrated broth passes axially the HFF cartridge and exit as retentate to be returned to the SUB.
Clio O-SUP integrates with both the SUB and HFF hereby operating in a loop.
Clio feature the re-usable (red) Laser sensor reading through the transparent Clio dome wall.
The high precision Laser sensor measures the position of the diaphragm, so broth velocity and volume calculation can be performed and presented on the Clotho display in real-time.
Clio both pump and measures any volume ranging within its spec and from 0 to +10 m/s velocity through the Cross-Flow-Filter module.
User features:
Clio handle fluids = liquids and / or gases or any mix of liquid/gas
Clio is a true metering feed pump = Positive Displacement (PD) pump = accurate mass-flow measuring at any time
Clio O-SUP do NOT need any mass-flow sensor measuring the mass-flow
Clio easily sucks from low arranged containers
Clio is a low shear force design which do not damage mammalian cells
Clio pump do NOT need calibration like peristaltic pumps
Clio pump do NOT loose nano size silicone particles to the fluid like peristaltic pumps
Clio general specifications:
| | | | | |
| --- | --- | --- | --- | --- |
| Product, variant names | Clio-30 | Clio-100 | Clio-300 | Clio-500 |
| Layout, number of diaphragms | single | single | single | single |
| Diaphragm diameter, mm |  62 |  80 |  100 |  125 |
| Diaphragm stroke, mm |  25 |  39 |  46 |  54 |
| Stroke Volume, SV, mL/S, 100% stroke | 34 | 100 | 500 | 500 |
| Cardiac Output, CO range, mL/min (recommended) | 0-500 | 0-1.000 | 0-2.000 | 0-3.000 |
| Beats-per-Minute, BpM, max | 0-22 | 0-20 | 0-15 | 0-13 |
| Typical hose connection, ID/OD mm | 4/8 | 8/12 | 12/18 | 12/18 |
| SUP cell weight, grams | 100 | 200 | 300 | 400 |
The basics in operation is copied from the human heart functionality:
Cardiac Output (CO) = total pumped volume, SUP capacity, mL/min (CO = BpM x SV)
Beats-per-Minute (BpM) = ranging 0 - 30 BpM, SUP diameter/stroke volume depending
Stroke Volume (SV) = programmable from 10 - 100% of SUP specification
Physical features
No expensive housing materials for traditional steam cleaning requirements
No mechanical rotating parts such as electrical motor, coupling, rollers or gearing
No moving ball valves, but simple cross-slit valves
All single-use plastic parts supplied irradiated – contamination not possible
All pumps offer infinite turn-down, turn-up scale better than 1:10.000