Scalable Perfusion-Single-Use-Bioreactor's
The CellMembra™ cultivate mammalian cell's in suspension (or attached to carriers) at high cell density via retention and perfusion mode operation for weeks. CellMembra provides a range of cultivation system sizes integrating all the components - as world first. The Perfusion-Single-Use-Bioreactor (P-SUB) with the Cross-Flow-Filter's (CFF) and the unique CerPhragm Single-Use-Pump (SUP) and even Single-Use-Sensor's (SUS).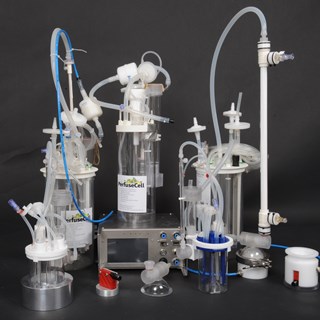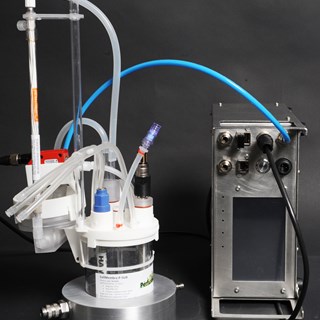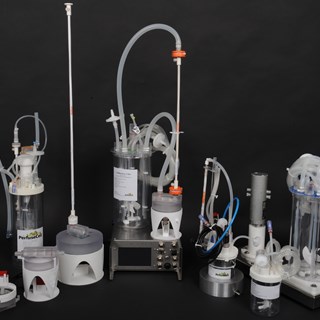 Shown on photo's a range of scalable P-SUBs fully pre-assembled with Cross-Flow-Filter, Single-Use-Sensor's and different size Clio diaphragm Single-Use-Pump driving the perfusion process. The solution is the Pulsating-Tangential-Flow (PTF) setup. The unique
Clotho

 Drive Unit in centre of photo's.
PerfuseCell product strategies are:
Introduce WORLD only and smallest P-SUB operating from 200 ml Working Volume (WV)

for any PCS (Process-Control-System 

- since 2016

Introduce WORLD only

 1 litre VV specifically designed for the bioBlock - since primo 2017

Introduce WORLD only

 2 litre VV for any PCS (Process-Control-System) - since primo 2017
Next planned is the 4 liter VV size P-SUB - primo 2018
Next set of P-SUB sizes are 8 litre VV - ultimo 2018
Patent applied for CellMembra™ and issued for CerPhragm™.